#5 – That's America (To Me) – ???
Welcome to "Smitty's Stockpile" where Dandy's web guy Smitty un-earths a stash of precious gems from the vaults of YouTube music insanity.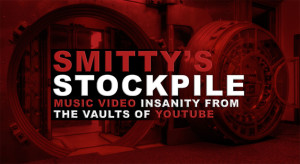 Today's video is a live taping of a musical number during a… convention or mega-church gathering of some kind? Whatever it is, it's a gigantic America love-fest complete with props, glee-club uniforms, and grown men and women finally acting on their dreams of high school drama club stardom.
Its interesting for the following reasons:
1. The production seems to have a large budget with competent production values.
2. It's in front of a pretty large audience that (I assume) wants to be there.
3. It's full of super-white, patriotic nonsense that's a few goose-steps away from invading Poland.
The crazy thing is that I cant find any info on who is in this video, who shot it, and where. Its as if it self-spawned from some alternate reality where America has become a jingoistic police state where only a few sources control the mass m-
Oh my god. I have to go lie down for awhile.
In the meantime, get a load of:
That's America (To Me) by ???

For a fun bonus: check out Duncan Trussell showing this video to Joe Rogan during a taping of the Joe Rogan Experience: