Smitty's Stockpile #4 – Losing You
Welcome to "Smitty's Stockpile" where Dandy's web guy Smitty unearths a stash of precious gems from the vaults of YouTube music insanity.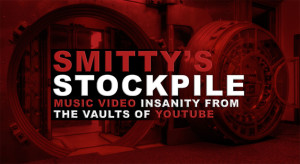 From the classy ride in a limousine to the classy ride on a motorcycle with a classy mulleted consort, this week's video pick just screams class – if class were being murdered in an alley, the indifferent city it's only witness.
This VHS gem from the early 90's features the rudimentary talents of Jan Terri, a former limo driver from Chicago that was clearly forced into this. Her movement during takes resemble a furloughed prisoner that is about one impulse away from making a break for it.
The title is "Losing You" and it features the passion one would come to expect from such subject matter – the listless passion of a sloth in a sugar coma.  I've seen more energy on line at the DMV.
I suspect that this entire project is a grand prank that will only be revealed at the reading of her will.
But enough from me, enjoy a stultifying tour of Chicago's finest street-corners with:
"Losing You" by Jan Terri