Subscribe: Apple Podcasts | Android | RSS
Another week another Rock N' Roll Hall-of-Fame inductee for Dandy Classic to dig into. At least lately it seems. This week we've got ZZ Top and we're doing something a bit different by suggestion from our very own Dan Minard.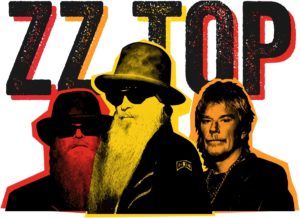 Instead of focusing on a solitary album track-by-track as is customary here, or doing a countdown of our favorite songs by a particular artist (a la The Rolling Stones, Bruce Springsteen or The Ramones), we just shoot-the-bull for 75 minutes and give an overview of ol' ZZ and highlight some of our favorite songs and albums alike.
Featuring the technical precision of Billy Gibbons on guitar and the killer rhythm section of Dusty Hill on bass and Frank Beard on the drum kit, this power trio from deep-in-the-heart of Texas has been churning out one of the most ass-kickingly consistent boogie-blues in the history of popular music since the late-1960's. And even though they're career has spanned six different decades Dan and Randy both agree one of their most satisfying full-lengths was the last one they did in this decade in 2012's "La Futura"!
Starting humbly as a bar blues band they became road dogs to build an audience in the early '70's before finding radio play with their third album "Tres Hombres" and their first signature tune to make a dent nationally with 'La Grange'. From there they grew sonically and commercially throughout that decade before plateauing in the early 1980's.
Then the Top came out with their magnum opus "Eliminator" in 1983 and blew the sales door off. Much like Bruce Springsteen a year later with his own blockbuster seller "Born In the USA" , the band which had cultivated a sizable cult following for many years through hard work, good rock and constant touring, broke through to the mainstream with bona fide pop music hits in the nascent beginning of the MTV video age.
Using the music video, a great groove, and peerless image crafting, the group added synthesized music to their pre-existing musical attack and rode a wave of populist appeal and became one of the hugest acts in the world for a time and sold ten million copies of the record in the US alone. Bolstered by the hit songs and videos of "Gimme All Your Loving", "Sharp Dressed Man" and "Legs" made Eliminator" a career-making effort.
After that they continued down the same creative path for the remainder of the '80's the 5X platinum-seller "Afterburner" and platinum-selling "Recycler".
Once the music scene shifted dramatically in the 1990's the band became elder statesmen and continued to put out good, consistent rock records to diminishing commercial returns as Classic Rock radio helped new generations discover their previous music, while contemporary stations treated their current output tepidly at best.
Join us as Randy discovers his inner-Id's new favorite band, supplanting AC/DC, while Dan explains recalls the bands star-turn in the 1990 film "Back to the Future 3" and how he discovered how Rick Rubin help reinvigorate the bands trademark sound. As always it's an adventure with us and we wouldn't have it any other way!