Them Crooked Vultures – Part 1
Subscribe: Apple Podcasts | Android | RSS
As far as supergroups go Them Crooked Vultures are as unlikely a pairing as could be expected. Not so much that Josh Homme (Queens of the Stone Age) and Dave Grohl (Nirvana and Foo Fighters) would join forces, they'd been publicly teasing an alliance since at least 2005, but luring John Paul Jones (Led Zeppelin) into the fold was a huge, and unforeseen boon.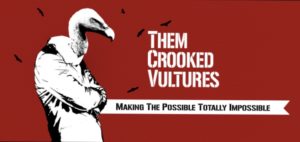 When it was announced that the trio was working together fans of rock music rejoiced at the prospect of the union and speculated at the glory of what that would sound like. And, like so few things in life, not only did it live up to the hype and expectations but it actually outdid most pundits projections from an artistic standpoint, if not in sales (which was never the point anyway).
With Grohl manning the drum kit, Jones playing his trademark bass and other assorted instruments, and Homme shredding on guitar and penning the lyrics (tremendously at that), the group was able to forge an identity all its own and showcase everyone's strengths and never coasting on their musical laurels and doing things by rote.
Leading off with the sardonic "No One Loves Me and Neither Do I", the rock hits hard continuously through such highlights as "Mind Eraser, No Chaser", "Elephants" and "Dead End Friends". Throw in some electro-funk "Gunman", the Cream-like "Scumbag Blues", some experimental weirdness "Interlude With Ludes" and some epicness with the closer "Spinning In Daffodils" and the album never lets up throughout.
For Dan Minard he found an all-time favorite rock record and for Randy it was an undiscovered gem. So join us as we do the one and only record these guys have done track-by-track and hopefully you'll dig it as much as we did.