Subscribe: Apple Podcasts | Android | RSS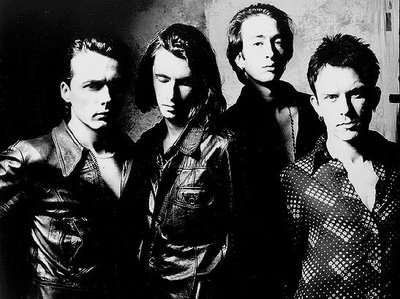 The London Suede – Part Two
In between the breathless press coverage of the Manchester "Madchester" U.K. scene of the late 1980's (featuring the Stone Roses, Happy Mondays and Primal Scream) and early 1990's and the explosion of Britpop with Oasis and Blur dominating the scene for a good three years with Pulp in the mix, there was a great band named Suede. Their first, self-titled, album was a dizzying combination of glam rock, youth British drug culture and the explosiveness of Bernard Butler's guitar attack and Brett Anderson's vocal stylings. In Britain they won the coveted Mercury Music prize(Britain's equivalent of the Grammy's 'Best Album') their very first time out and had a breathless music press clamoring and celebrating their every move. The world awaited their next move.
Then fate intervened. On a grueling U.S. tour in late 1992 the extremely talented Butler's father died and he had to leave the tour to pay his respects and bury him. In a perfect world he would've been able to stay in his home country and grieve on his terms with the rest of his family. Instead he returned right back to the road as soon as he could and it disillusioned him and drove a wedge between he and his fellow bandmates, particularly Anderson who was grappling with his own fame and drug issues.
Butler poured himself into his music and Suede put out a legendary EP called "Stay Together" that was amazing in showcasing the band maturing and growing from an artistic point-of-view. However as the time came to focus and start writing for the often problematic sophomore album, the band fracture continued as Anderson sequestered himself in a mansion on the hill keeping vampires hours in a chemically altered state, while Butler worked a more typical 9-to-5 type schedule for recording. Butler would lay down the music tracks and score virtual rock symphonies and then deliver the tapes of his demos to Anderson who would add his lyrics and vocals afterwards, often in an inspired haze that actually elevated most of it to something more like art than typical rock music.
However unconventional the arrangement, it was working on an artistic level. However, Butler, ever the perfectionist taskmaster became more-and-more impossible to work with not only for Brett Anderson, but also the other two members, bassist Mat Osman and drummer Simon Gilbert and particularly their producer Ed Buller, whom he often came to loggerheads with. With the album almost complete, he issued an ultimatum to the band that it was either he or Buller who would have to leave project and in effect, the band. The band, sadly, had to let him go as they figured Butler's main problem was the way the band was going and that Buller was a symptom of a greater problem and he'd not be happy stopping there.
While the band would finish the album without him, and did a remarkable job of it, there was something about his relationship and partnership with Anderson that took the band to a higher musical plane they'd rarely revisit following Butler's sacking. For Randy W. Hall the resulting album "Dog Man Star" is an imperfect masterpiece and helps him to embrace his inner teenage-girl without having to delve into the 'Twilight' movie franchise. For Dan Minard, reviewing this album was a 40th birthday gift to his buddy and podcasting colleague. And, truth be told, he didn't totally mind it. Hopefully this podcast does justice to an album Randy feels is one of the best of the 1990's, if not all-time.