The Live Top 5 favorite KISS Songs Panel (w/ Pods N' Sods from the Nashville Rock N' Pod & special bonus interview with Craig Smith, plus: Cobras N' Fire !)
Subscribe: Apple Podcasts | Android | RSS
On August 26th, 2017 history was made. We aren't talking about the fight between Mayweather and McGregor. We're talking about Pods N' Sods and Dandy Classic joining forces to pick their Top 5 favorite Kiss songs of all-time! Not only that, we did it live on stage.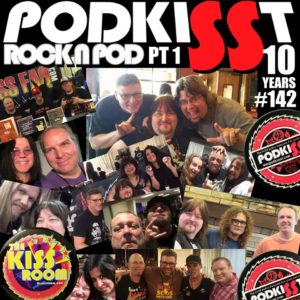 For those of you unfamiliar with Pods N' Sods, it features Craig Smith and Eric Miller and their longstanding friendship was formed over Kiss. They've done somewhere in the neighborhood of 50 individual podcasts on the topic of Kiss and until now have never revealed their favorite Kiss songs, so only here is that info readily available!
For Dan and Randy Kiss has always been a band that has been elusive. But in the spirit of getting to do a live panel with Pods & Sods we jumped at the chance to broaden our horizons. And not for nothing, the live part went by so quickly and briskly we decided to include some extra interviews from the Expo that we haven't released yet. We have a free-ranging talk with Craig Smith pre-panel that is all kinds of fun. But first we meet up with the one and only "Cobras & Fire" featuring LC (Loose Cannon) and Bakko. We did an interview on their podcast and had the chance to have them come on over to our booth where we have a tremendous repartee with them and delve into the world of jerk socks and Sylvester Stallone inspired titles. Trust us, this entire episode is fun, irreverent and why you're probably a fan of That Dandy Classic Music Hour!