The Latest Top 5 by Jeff McGee – 1: Top 5 Songs Used In Films
HELLO!
Some of you may remember me from my appearance on That Dandy Classic Music Hour's discussion of "Brothers In Arms" by Dire Straits. I had such a good time that I asked Dan and Randy if they had room for me to write a monthly blog of top-5 lists of my choosing centered on pop music. I caught them on a particularly generous day, because they both said "Ok" and here we are.
I love music. It's rare that I don't have some earworm running through my head every second that I'm awake. I also love lists. So, lists of music are some of my favorite things. The thing I love about discussing music is that there is SO MUCH out there that I can always count on either being introduced to something I've never heard of, or have the honor of introducing someone else to something they've never heard of. Hopefully we can get some dialogue going in the comments sections to make that happen!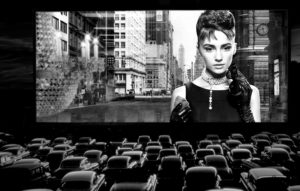 For my first entry in my blog series, I've chosen to focus on my favorite uses of pre-existing popular music in films. The right song played at the right time can make a bad scene good, and a good scene great. Sometimes, the scene and the song are so perfect that it's hard to imagine one existing without the other. When it works, you can't hear the song without associating it to the film, even if you knew the song before you saw the movie. The list below represents a few of those for me. I've set some parameters here to make the list easier to curate. First, I disqualified songs that are used to open or close films, because those are different animals and deserve their own lists (which you will be reading over the coming months). Second, it had to be a song that existed before the film, not a song composed for the film specifically. Other than that, anything goes, and I'll be interested to hear your thoughts on this topic. Without further ado, here is my Top 5 Songs Used In Films:
5. "I Got You, Babe" by Sonny and Cher, as used in "Groundhog Day" – Yeah, I'm not a huge fan of this song, I think it's been overused in popular culture, but the fact is that you can't hear it without thinking of Bill Murray destroying his alarm clock every morning in this Harold Ramis classic. Not only is it a great film, but the song was the PERFECT choice, in my opinion. It's instantly recognizable, and it's also annoying as $&%* so I want him to kill the alarm as quickly as possible. Whoever was responsible for choosing this particular track is a genius.
4.  "Farther Down" by Matthew Sweet, as used in "Can't Hardly Wait" – This might seem to be a slight film to include here, but if you've never seen it, you should. It's actually a great teen comedy, it's the sort of film John Hughes would have made had he still been making teen comedies in the late '90s. It has heart, laughs, and memorable characters who all go on a journey. One character's journey is to express his unrequited love to the most popular girl in school. He finally gets his chance, and she misses his point and tears him a new one. As he nurses his broken heart and bruised ego sitting on the edge of a diving board, the strains of Matthew Sweet's guitar play, and the lyrics "Just something, something takes my pain away" are heard, it's simultaneously heartbreaking and comforting. Listening to the song now makes me feel all of my lovelorn teenage emotions, while at the same time allowing me to look at them through an adult lens, to admit that, yes, I survived, but also that those feelings mattered, and that feeling them made me who I am today. That's a lot to ask of a song, or a scene, but this one manages to do both, and I credit the song choice for making it pitch-perfect.
3. "Didn't I (Blow Your Mind This Time)" by the Delfonics, as used in "Jackie Brown" – You KNEW Tarantino had to be on this list somewhere, right? There are several choices I could have made here, but one of them will show up on another list down the road ("Misirlou" from "Pulp Fiction), and another ("Stuck In The Middle With You" from "Reservoir Dogs") has been discussed at-length, and I wanted to highlight my favorite song from my favorite Tarantino film. I love "Jackie Brown" and each time I watch it, I gain more appreciation. It gets overlooked from QT's canon, but you should give it another look, even if you've already given it several. Pam Grier's Jackie introduces Robert Forster's Max Cherry to this song as they sip coffee and discuss growing older, which by itself would merit inclusion on the list. However, late in the film Max has purchased his own copy and has it playing on a loop in his car. As he drives Sam Jackson's Ordell Robbie to meet Jackie, the song comes on. In vintage QT fashion, Ordell comments, saying "I didn't know you liked the Delfonics," to which Max replies with a very cool, "They're pretty good." All this while Ordell has a gun trained on Max and is threatening to shoot him. Classic QT, the perfect song to build rapport between characters first, and then to cut the tension later. A great song in  TWO great scenes in a GREAT film.
2. "Jump Into The Fire" by Harry Nilsson, as used in "Goodfellas" – Just like you knew Tarantino would show up, you had to know that my boy Martin Scorsese would also make an appearance. He may be the godfather of pop songs in film, and "Goodfellas" is certainly no exception. Just like with QT, there were several choices to make here, but the one I've chosen is one that has grown on me. I used to hate the last act of "Goodfellas" because it just stressed me out. However, as I've seen it more, I understand the brilliance behind it, we are once again seeing the world through Henry Hill's eyes, but this time they are drug-addled and paranoid, and the itchy guitar riff on Nilsson's song is absolutely the perfect sound to throw us into the worst day of Hill's life. The riff, the beat, it's all just cool and propulsive, and it takes us on the journey that will ultimately end in Hill's world crashing down around him. Good job, Marty, now stop using "Gimme Shelter" would ya? Enough's enough.
1. "Most Of The Time" by Bob Dylan, as used in "High Fidelity" – A movie about pop music should have some great music in it, and "High Fidelity" does not disappoint. The best part is that most of it is music I hadn't heard before I saw the film, including this hidden gem from Bob Dylan. It comes along at the perfect time in the film.  During the emotional climax, John Cusack's Rob Gordon has fled the wake of his ex-girlfriend's father and is sitting alone on a park bench in the rain. The music starts, there's a programmed drum that plays a halting beat, and Dylan's almost-spoken-word lyrics tell the story of a man who is trying to convince himself that he's over his lost love. Well, most of the time, anyway. Cusack addresses the audience directly, stating the he realizes he never truly committed to his ex, that he finally realizes, after spending the entire film trying to figure out why he can't find lasting love, that the problem is him. It's an epiphany that is completely earned, and completely real. Much like "Clerks 2," this film came along at the perfect time in my life to have an impact, and it still does to this day. The scene is remarkably acted by Cusack, expertly filmed and edited, but it would only be half a scene without the absolutely perfect choice of song playing over the dialogue. It moves me to this day, every time I watch it. Every time I hear the song. Every time I even think about the scene OR the song. That's powerful.
Honorable Mentions:
"Wild Thing" performed by X, as used in "Major League" – I can't help it, every time Rick "Wild Thing" Vaughan appears from behind the outfield wall to come in to pitch in relief, the song starts, the crowd literally goes wild, and I get freakin' PUMPED. Another example of a song being used and being built upon until film and song coalesce into a perfect moment of film.
"Superstar" by The Carpenters, as used in "Tommy Boy" – I love Tommy Boy. There's a ton of great tunes used in the movie, but nothing, I repeat NOTHING will ever be as funny or as universally familiar as Chris Farley and David Spade pretending they hate the Carpenters, only to be seen singing along with all of their heart and soul mere seconds later, joined together in their mutual adoration of sappy, corny, overly emotional pop music without shame or hesitation, but also understanding that we are to NEVER speak of this again. EVER. Great song in a great scene in one of the classic comedies of my generation. We still miss you, Chris.
Jeff McGee is the founder of the MarvinDog Media podcast network, where he hosts Talking Toys with Taylor and Jeff, The Pilot Episode, and Bantha Banter: A Star Wars Chat Show. These shows can be found at www.MarvinDogMedia.com and on iTunes. In addition to his own shows, he also appears weekly on Assembly of Geeks (www.AssemblyOfGeeks.com) and on Comics With Kenobi discussing all the latest Star Wars Comics on the Coffee With Kenobi podcast network (www.CoffeeWithKenobi.com). He also write a monthly blog for Coffee With Kenobi, if you just can't seem to get enough of his ramblings.