Nashville Rock N' Pod Expo Interviews – Part 1
Subscribe: Apple Podcasts | Android | RSS
We came, we saw, we podcasted! The first ever Rock N' Pod took place at the Music Valley Event Center on Saturday August 26th (regular listeners of the show probably are well aware of it since we've been talking about it incessantly since it was announced in the spring) and it was lit. Dan Minard and Randy W. Hall set up shop and spread the gospel of our podcast far and wide. We were one of about 25 shows (!) that came to the inaugural event put together primarily by Chris Cynczak of The Decibal Geek and BJ "Kahuna" Kramp of Rock and/or Roll and Christine "The Button Queen" Carlson Wolfe.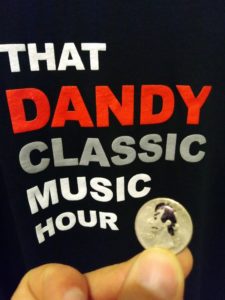 Let me tell you that if you were lucky enough to be there it was a strong show of brotherhood and camaraderie among a fraternity of (mostly) rock-oriented shows who came from all over North America (there were Canadians all over that place🙂) to join together and meet face-to-face. It was extremely cool and an honor to share the day with so many talented and like-minded guys.
A big part of it was spent having people come over to our booth and sit in on Dandy Classic Music Hour and then appearing on other shows as well. What we have here is Part 1 of our multi-part episodes and we got to meet and interact with some great guys.
First we chat with one of the aforementioned wily Canadians in Brian Sword of The Double Stop. "The Swordsman", as Randy has dubbed him has appeared with him and BJ Kramp on an episode of Rock and/or Roll when we each picked our 5 least favorite U2 songs so there was a pre-existing relationship via Skype going into this interview.
Next we sat down with one of the O.G.'s of rock podcasting in Mark Strigl of "Talking Metal". What a treat! His show goes back to 2005! We didn't even know there were podcasts in 2005! At any rate we chatted with him for quite awhile about a variety of topics and we had a genuinely illuminating discussion with him.
And finally for Vol. 1 we wrap it up with another Brian Erickson of "The Great Albums" whom we've been friends with from afar for 2 years and finally got to meet face-to-face. Brian, from the Garden State of New Jersey, graces us with his golden pipes and we get down to brass tacks about our sharing the same podcasting demographic.
It's all very fascinating as we give you your first taste of what it was like to meet so many great DIY broadcasters! Hope you enjoy it half as much as we did.