PUBLIC ENEMY It Takes a Nation Of Millions To Hold us back – Part 1
Subscribe: Apple Podcasts | Android | RSS
We sometimes get the question about an album or artist: What took you guys so long?! Well this week certainly applies to that sentiment.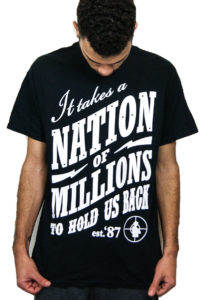 By the time 1988 rolled around and Public Enemy, the hip-hop collective from Long Island, NY, released their seminal sophomore LP "It Takes a Nation of Millions to Hold Us Back", rap had come a long way from its innocent impromptu house parties roots. It had broken through to the mainstream with the multi-platinum success of their Def Jam label mates Run DMC and most notably, the Beastie Boys.
Still, as a musical genre, it was still largely considered a curio for most pop and rock music fans. Something mostly urban folks did if they couldn't sing or play an instrument. At best you'd get credit for being able to rhyme words credibly from music snobs. It most definitely wasn't looked at as an art form unto itself.
But this album made major headway in changing all of that. Perhaps for the first time people outside of hip-hop lovers (most notably the popular rock press) took notice critically. Thanks to the dense sonic textures and intense innovation of the Bomb Squad production team coupled with the politically conscious and pro-Black themes of Chuck D, it was something aficionados of music could not only appreciate, but rally behind and champion. Also, with Flavor Flav's hype man levity to counter-balance the seriousness of the group's message, it grabbed the attention of America's youth and helped get the record off the ground.
Following the release of their debut album 'Yo, Bum Rush the Show!', the previous year, PE endeavored to make hip-hop's answer to Marvin Gaye's masterpiece 'What's Going On'. While it's hard to see comparison in terms of how it sounds, it is comparable in terms of reporting what the feeling is on the ground of urban America. Not only did the second album improve on the promise of the first, it radically altered how hip-hop was perceived and the group upped their craftsmanship by a factor of ten.
Oh and how. From the mission statement of "Bring the Noise" to the explosive "Louder Than A Bomb" it's clear these guys aren't just here for a good time. But they can make you dance with the glorious anti-media screed "Don't Believe the Hype" and "Party For Your Right To Fight". But don't get it twisted. These guys firmly subscribed to the belief that if you don't stand for something, you'll fall for anything mantra. "Black Steel In the Hour of Chaos" backs up the belief that U in USA doesn't stand for United.  And "Caught, Can I Get A Witness" is a precursor to sampling becoming much more regulated and "She Watch Channel Zero" is just as relevant in the reality TV age of today as it was when it first dropped 29 years ago.
No matter how you felt about PE's politics, you had to give them their due as artists who had a moral authority no other rap act has had before or seemingly since.  For Dandy Classic it's been too long coming to do this record. Dan and Randy have always loved this LP since they first heard it back-in-the-day on Randy's cassette. Listen in as Dan describes his unique take on Minister of Information Professor Griff and Randy share's how he snuck in with Dan to vote in the 1992 Presidential Election and what the hell that has to do with Public Enemy. Watch the drummer get wicked and word em' up on the level. Or something like that.