Prince Tribute Finale – w/ BJ Kramp & Casey Cooper
Subscribe: Apple Podcasts | Android | RSS
One more time to blow your mind!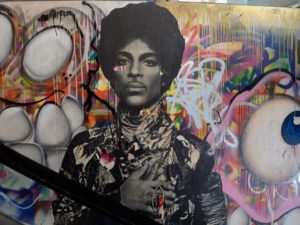 We admit we may have gone a little overboard in our tribute to Prince here at That Dandy Classic Music Hour. Having said that we ended up having some really good conversations with our fellow Prince fan podcasters about what the Purple One's music and artistry meant to them. We discuss such things as Top 10 favorite songs, their top album picks, had they seen him live and how many times, and so much more. What had been intended to be 25-30 minute conversations ballooned to 45 minute to an hour wide-ranging discussions that were not only healing in light of recent events but oftentimes heart-warming.
For our final installment we combined two guests. Casey Cooper from www.tobeDETermined joined us from Detroit, MI and BJ Kramp from www.rockandorroll.blogspot.com from the hinterlands of Wisconsin to share with us their Prince memories, Top 10 favorite songs, 3 favorite albums and live memories (Casey in particular) as we wrap up our Prince coverage in style.