PJ Harvey – Stories From The City, Stories From The Sea – Part 1
Subscribe: Apple Podcasts | Android | RSS
For "Stories From the City, Stories From the Sea", P.J. Harvey decided to clean-up her sound and write her "pretty, beautiful" album. While the final results were decidedly P.J., there's no denying that in the body of her life's work, that "Stories" is indeed the outlier in terms of easy-to-digest melodies and nearly commercial-sounding songcraft.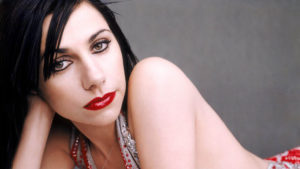 That's not to say it sounds like a Madonna record or anything, but compared to anything else she did before or since, this is her bid for a wider audience. She ended up winning the prestigious Mercury Music Prize in 2001 for her trouble (she also won in 2011 for her effort "Let England Shake" as well, becoming the first 2-time winner of the award), and this does remain her best-selling album in the U.S. where it wound up going gold. It also is regularly regarded as the P.J. Harvey album most rock fans could get into and has been included in various lists celebrating the top albums of all-time.
And for Randy W. Hall he really got into the album. Buying it the week of release, he's constantly kept it nearby ever since and considers it one of his 20 favorite LP's ever. For Dan Minard, it was a chance to give her a longer look into what most would consider an essential artist of the last 25 years.
Starting with the ironically titled "Big Exit", the album kicks off with three fantastic songs that grab and demand your attention. "Good Fortune" is perhaps the best song Patti Smith never wrote and gives way to the kinetic "A Place Called Home". The album slows down for a bit before kicking back into gear with the banger "The Whores Hustle and the Hustlers Whore". The duet with Thom Yorke of Radiohead "This Mess We're In" is a delightful weaving of his and Harvey's styles that leaves an impression. "You Said Something" is a mid-tempo earworm that revels in the glories of being in love in New York City, while "This Is Love" is Harvey at her sexual peak just wanting what she came for in epic style. The entire thing wraps up with the piano-driven "We Float" and features one of the better vocals on the record as she seemingly floats us out of the album in grand style.
The album is definitely inspired by Polly Jean's living in New York City for nine months, despite her protest that it's "not my New York album". Never before and not since has she ever made such gorgeous, accessible music and it's out pleasure to ride out the remainder of the year celebrating women in music and this kicks it off. So without further ado please enjoy the Dandy Classic review of "Stories From the City, Stories From the Sea".
Dedicated to my old concert buddy and P.J. Harvey enthusiast:  Julie Thompson.