Pink Floyd The Dark Side Of The Moon – Part 1
Subscribe: Apple Podcasts | Android | RSS
What do you get when you combine a heady English rock band, astronomy and a cynical stoner culture? Why you get the mega-album "Dark Side of the Moon" by Pink Floyd!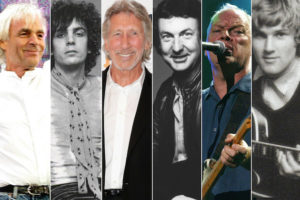 Released in 1973, the album had unprecedented staying power as it remained on the Top 200 selling album charts of Billboard for over 15 years as generations of music fans bought the record time-and-time again. It eventually has sold over 20 million copies in the US and over 30 million worldwide!
What's amazing is it was the bands eighth release as a collective and although they had a solid and loyal fan base, there was no way to predict that this album would crossover to so many people in such a huge way. And even though it garnered significant airplay it didn't feature any bona fide hit singles ('Money' and 'Us and Them' never charted very high).
Maybe Roger Waters tapped into a national malaise with his lyrics, or David Gilmour's guitar playing captured the imagination of millions of stoners, or maybe it was just the right album at the right time. Or some combination of all those factors. Whatever it is the record been one of the biggest coming -of-age albums for the last 40 years and shows no sign of slowing down as it continues to inspire loyal and rabid fans unabated.
One of those loyal fans is Dandy Classic's guest this week, one of our superfans, Wes Cheney. He joins Dan and Randy via FaceTime as this album is one he requested and since neither of us would claim to be Pink Floyd fans, we wanted a true fans perspective for such a landmark album.
With Wes we discuss the multitude of cover albums and alternative art this amazing album has spawned. We also get into Wes other favorite Floyd tracks, how the LP changed his life and even wax nostalgic about dubbed tapes and their audio imperfections. So much is bantered about and discussed it's probably best you just press play and hear for yourself.