MONSTERS OF FOLK – Part 1
Subscribe: Apple Podcasts | Android | RSS
Apparently Dan Minard likes 2000's supergroups. For the second time he has gotten us to do an album from one (Them Crooked Vultures were the first). Coincidentally both records came out in 2009!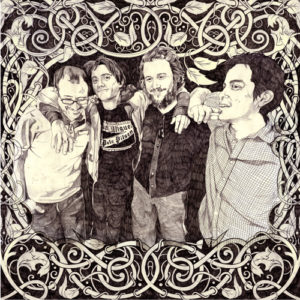 This one features four fellas who found themselves together on a tour in 2004 with their respective 'day jobs' and hit-it-off to the point they conjured up the idea for this collective five years prior to actually releasing an album.
Jim James (from 'My Morning Jacket'), M. Ward (solo and 'She & Him'), and two guys from 'Bright Eyes (Conor Oberst & Mike Mogis) recorded the album over the course of two main sessions in Omaha, NE and Malibu, Ca and found a winning blend of all their musical strengths over the course of 15 varied tracks.
Kicking off with the soulful falsetto-fest of "Dear God" and ending with the grand "His Masters Voice" the album is imbued with a mild spiritual bent that feels searching, rather than heavy handed. In between all that you've got Classic Country in "The Right Place" as well as the barnstormer "Baby Boomer". The triple-threat of the Oberst penned "Man Named Truth", "Ahead of the Curve" and "Map of the World" in the middle of the album showcases his literate chops to everyone's delight and benefit. And "Say Please" is a fantastic group effort that shows the camaraderie they had, as does the rocking "Losin' to Win".
Listen in as we declare one member the clear best songwriter of the group, talk about how Dan used the album to combat insomnia, and how Randy discovered an album of great tunes and had tough time picking a Top 5. All that and more as we get closer to our long-awaited appearance at the Nashville Rock N' Pod Expo at the Music Valley Event Center on August 26th!