Madonna "Like a Prayer" – Part 1
Subscribe: Apple Podcasts | Android | RSS
"Life is a mystery.  Everyone must stand alone.  I hear you call my name.  And it feels like home."
Madonna – Lyrics from "Like A Prayer"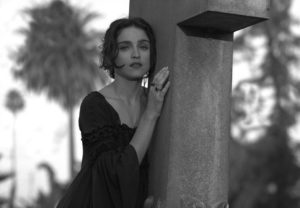 For our last artist of Female Appreciation Month we wanted to do one of, if not the, biggest female artist of Dan and Randy's lifetimes, the one and only Madonna. The reason Randy chose this album, Madonna's fourth, was because it held personal meaning for him and when this came out he was going through puberty and this made a lasting impact on him for that and other reasons.
In 1989, the year this was released, Madonna was at a sort of personal crossroads. She was about to turn 30, the age her mother actually died at, which was compounded by her crumbling marriage to the notoriously combustible actor Sean Penn. Pop music was also changing (for the worse) and Madge herself fancied herself more than a disposable 'pop tart'. She wanted to let her artistic side roam around and play and on this album it's not hard to see her efforts to make more meaningful music, not just radio ear candy.
Not that there's not plenty of ear candy ('Cherish' anyone?), but she also gets to work out her issues, internally and externally, under the umbrella of her huge brand at this point. Whether it was on purpose or subconsciously she did herself no favors on the controversial front (probably calculated) when she signed a mega-deal with Pepsi to showcase the title track in a prominent ad campaign and promptly threw a hand grenade on the entire thing by making one of the most controversial videos of all-time complete with a Black Jesus, stigmata and interracial on-screen romance all with flaming crosses in the background in a scantily clad dress. It was a bold move to be sure, and got her lots of invective from the media and dropped within a day of it's initial airing by Pepsi Co. (don't feel too bad, she got to keep the $5 million they paid her).
Fortunately the music behind it was about as high-brow as #1 hits got in this era and the song was a strong one. If it hadn't, there's no telling how it would've resolved itself. She followed up that video effort with the big-budget ode to the movie 'Metropolis' when she came out with "Express Yourself", her self-described tribute to Sly & the Family Stone. "Oh Father" wasn't a pop chart sensation, but it had gravitas and melodic beauty. Also "Keep It Together" sans video is one of the great lost Madonna singles of any era and a dance workout with a loving nod to where she'd come from with her family.
In totality Madonna got to a lot in this record. She had a long-anticipated duet with the legendary Prince in "Love Song". She had her new-wavish nugget about her violent marriage in "Til Death Do Us Part". She dealt with her feelings of anguish with her mom's early death in "Promise To Try".  And she got her Latin ya-ya's out with the credible "Spanish Eyes".
So join Dan and Randy as we discuss this fantastic pop album track-by-track in what Randy considers to be her most interesting period, in a career full of them. On the heels of her speech at the Billboard Music Awards this seems like the perfect time to enjoy your "Holiday" and celebrate with one of the true icons in the history of the rock era.