Joni Mitchell Blue – Part 1
Subscribe: Apple Podcasts | Android | RSS
1971 may have been one of the best in the history of the album. On the rock side of things we got three all-timers with "Sticky Fingers" by the Rolling Stones, Led Zeppelin with the legendary 'IV (or Zoso) and "Who's Next" by The Who. For those who liked soul music, Marvin Gaye released his pantheon album "What's Goin' On" and Stevie Wonder let everybody know "Where I'm Coming From". Not only that, Gamble & Huff were scoring hit & hit out of Philadelphia with a cadre of great artists. Also from Sly & the Family Stone there was "A Riot Goin' On". Across the pond we got David Bowie getting weird in the most wonderful way with "Hunky Dory".
But folk music was about to get a swift kick in the ass from one Joni Mitchell who released a nice little album called "Blue" in 1971. And at least to Rolling Stone magazine, it was the best album by a female artist ever released in the rock era thus far, so there's that.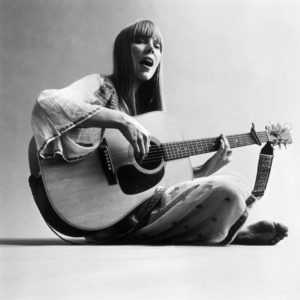 Over here at Dandy Classic, who are we to argue? So for our second album of Classic Women Album month (most call it December, Randy shamefully may lapse into calling it Chickcember to Dan's chagrin) Dan Minard thought it a fine idea to honor an album and an artist that may be the most influential woman artist of the twentieth century. Literally walk into any coffee house in America anywhere where local acoustic artists are allowed to perform and her fingerprints are everywhere! If they aren't pulling out Joni covers, often their strummed songs are straight from the 'Blue' playbook.
It was Mitchell's fourth album release and though it's not a multi-platinum seller, the album has great material to spare. Kicking it off with the wordplay of "All I Want", featuring the love-letter to where she lives"California", and showcasing the fun, smile-inducing "Carey", the album is a tour de force creatively. And that's nothing to say of the emotionally wrenching "Little Green", the oft-overlooked "This Flight Tonight", the much-covered "A Case of You" (by no less than Prince among others who worshipped Joni) and the best use of the 'Jingle Bells' melody ever, the lauded "River".
By this point in her career Joni was a highly regarded artist who had written hits for others and some minor ones for herself. But she used her breakup with Graham Nash and her budding romance gone sour with James Taylor as creative fuel for this masterwork. Listen as we go into our personal experiences with Joni and how this album impacted us as "young, old guys". As Larry Mullen might even say "It's a musical journey". We'll see you out there!