George Michael – Faith Part 1
Subscribe: Apple Podcasts | Android | RSS
Last Christmas 2016 – When the world and I learned this last Christmas Day 2016 that George Michael had passed away at age 53, it was yet another musical luminary who died unexpectedly and too soon. While he had stepped away from the music scene at large, Michael was the type of talent who always had the potential of a comeback, even if it was a slim chance.
For me, George Michael will always have a special place in my heart as a music fan. When he released his masterpiece, 'Faith' in 1987 I was the perfect age to embrace this meteoric rise and give myself over to his pop excellence.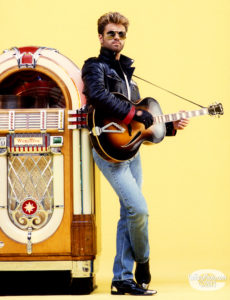 He had established an audience in the early part of the 1980's with his partner-in-crime Andrew Ridgely to form the boy group Wham! and they dominated the US charts for a brief, but memorable, span. Their sophomore album 'Make It Big' spawned 3 #1 Billboard hits ('Wake Me Up Before You Go Go', 'Everything She Wants' and the peerless 'Careless Whisper', which was credited to Michael as a solo artist in this country) paving the way for his solo career to make a global impact.
Not only was Michael growing by leaps and bounds as an artist, and a producer, but he used his intellectual savvy to create a marketable monster, a global icon the likes the world had rarely seen.  Taking over his own self-promotion and image he took his fame to levels that shocked even himself, and eventually scared him into retreating in a sense.
First of all he had the songs for creative cache in the business, the looks to capture the youth market and ride the emerging video zeitgeist, and an inate sense of what to do and when to do it. He took over curating his own image and how the songs would be presented and it went bonkers. The album went Diamond in America (over 10 million copies sold) and sold over 30 million worldwide. His tour to present to the record was a global hit, selling out for a year-and-a-half as he traversed every musical market seemingly.
His videos, particularly for the title track and 'Father Figure', set new standards and rocketed his momentum to unheard of heights. Get this, the album has eleven (not counting the Shep Pettibone remix of 'Hard Day') original songs, over half of which became a Top 5 hit. He had 4 straight #1 singles. He probably would've had five if certain program directors weren't scared off by the title "I Want Your Sex". Not since 'Thriller' had one album by a solo male artist so taken over an industry.
But listen to the songs and you can hear they were built to last (mostly). Using his one-in-a-million voice (I put him in my vocal Mt. Rushmore) to spectacular effect, the public was ready to embrace this dynamo who looked like a male model to boot. From the first strains of the organ in 'Faith' to the hungover morning-after feel of 'I Want Your Sex Part 3 (A Last Request), the album is a stone-cold classic. Not just a shining example of the best 1980's pop music had to offer, but a disc to be enjoyed in any era.
So give us a chance to tell you what song Dan uses as a prop for comedic genius using a Simpsons character and I'll regale you with tales of how 'Faith' shaped my life as a music fan. It's all waiting for you when you press play.