Fleetwood Mac Rumours – Part 1
Subscribe: Apple Podcasts | Android | RSS
The 1970's was the dawn of the true blockbuster. Blockbuster movies like 'Jaws', 'Star Wars' and albums like Eagles 'Hotel California' and Pink Floyd 'Dark Side of the Moon'. Twin blockbusters (movie and soundtrack) like 'Saturday Night Fever' and 'Grease'. And perhaps the most unlikely blockbuster seller of all is the album we've taken on the next two weeks, Fleetwood Mac's twenty million seller 'Rumours'.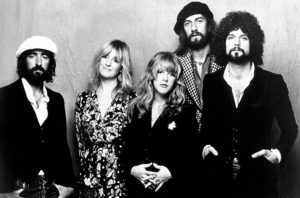 Fraught with crumbling relationships, in-fighting, partner-swapping, rampant drug use and competing creative tensions, it's a minor miracle the album was completed, let alone thrived. Out of the five members of the group, no less than three relationships were on the rocks. Every single member battled substance abuse of some persuasion. Lindsey Buckingham was a perfectionist pain-in-the-ass. Stevie Nicks perhaps best song was regrettably left off the record. Divorces were proceeding. Hatred was spewing from behind the scenes and onto the album. It would've made for great reality TV had such a thing existed back then, but it was hardly a formula for making a classic album. Granted The Beatles made 'Abbey Road' and the 'White Album' under some trying circumstances but this was a different level of drama altogether.
Still, when one puts on the record it's pretty undeniably great and a fantastic achievement just about any band would be grateful to stake its claim on. Sales and commercial success were one thing, but this song cycle also had significant artistic merit and is generally regarded as a five-star album by most music critics over the last forty years.
Despite the aforementioned hurdles, the band and album did have a heckuva lot going in its favor as well. Although technically the groups eleventh album under the banner Fleetwood Mac, it was the second go-round with Stevie Nicks (vocalist) and Lindsey Buckingham (guitars and vocals) joining forces with founding member Mick Fleetwood (drums) and the McVie's, John (bass) and Christine (piano, keys and vocals). Their self-titled first effort together was a pretty big hit in its own right spawning three Top Ten pop singles and setting the table for their huge breakthrough by whetting radio and the public's appetite for their radio-ready soft-rock, pop songs that were not only pleasing to the ear, but showcased the band's considerable musical chops and stylistic diversity.
Randy W. Hall makes the analogy of the band being like an NBA superteam with the group having superior musicians and songwriters everywhere, backed up by a killer, often overlooked rhythm section  in John McVie and Mick Fleetwood that always serves the songs to their best effect. Between the allure of Stevie Nicks vocal stylings and obvious beauty, the guitar skills and creative direction of Lindsey Buckingham, the tender touch of Christine McVie, the collective somehow manage to combine their individual talents into a cohesive and satisfying whole that millions the world over found irresistible (and still does to this day).
Dan Minard may have foreshadowed in our last Belly episode his personal distaste of Lindsey Buckingham, but in reviewing the album did he find a hard-won respect for him? Did Randy listen to this album relentlessly growing up? How did they react to Buckingham's insistence on doing his "stuff" in the opening track "Second Hand News"? Tune in for all this and more and we do this much-loved album track-by-track by request for Mr. Jeff Price (yes, the same guy who requested The Meatmen last summer, believe it or not!). There's a 'Rumour' that we roast one of the Mac's sacred cows too, so lovers of conflict should be happy to. Push play and find out!