Fiona Apple , TIDAL – Part 1
Subscribe: Apple Podcasts | Android | RSS
In the mid-90's it was a halcyon time to be a female artist. From the piano stylings of Tori Amos, to songstresses like Sarah McLachlan to female-lead bands like Garbage and Belly, the world of rock had lots of ladies representing. And today we open up our Female Artist appreciation month of December a week early by featuring one of the most unique artists of the era in Fiona Apple as we discuss her debut album, Tidal.
Apple was 18 when she recorded most of the record but to listen to it now and you'd never think this was a teenager, and more likely a world-weary thirtysomething who'd seen it all.  From her smoky-soulful voice to her arresting way around a lyric and how she could phrase it, she sounded extremely accomplished despite her lack of real-world experience.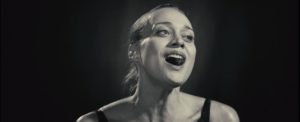 Hailing from New York, Fiona was just as inspired by literature, and particularly Maya Angelou, as she was by torch-singers like Ella Fitzgerald and Nina Simone. Not only that she had pathos that were real and undeniable to give her the artistic fuel she needed to run on.
Teaming with Jon Brion, he fleshed out the musical arrangements and gave a deft touch to producer Andrew Slater's discovery in the musical wunderkind that Apple was. Buoyed by the Sgt. Pepper'ed single 'Criminal', the ten track album was an exotic and immediate listen for a musical landscape that was in a transitionary state to younger, fresher artists, most of them disposable pop stars. It wound up winning her a Grammy and propelling the album to triple platinum status.
Not that Fiona is concerned with such sales figures, but it helped to validate those who believed in her and what she was capable of in terms of reaching a broad audience. Upon closer inspection it's frankly startling that someone could come up with music so classical sounding in such a vapid time in commercial music with poetic and thought-provoking lyrics that read like very personal diary entries. Is this what Sylvia Plath or Dorothy Parker would've sounded like had they the talents of Fiona Apple? Lucky for us we have Fiona herself to bring these ten tracks to light and to the record stores.
Starting with the tough-talking and hip-hopish "Sleep To Dream" we are introduced to Apple as MC as she eviscerates the subject of her scorn in expert form. She also manages to give women everywhere a rallying cry when they wanted dudes everywhere to know they had their own hell to raise.
Moving on to the explanatory and exploratory "Sullen Girl" we learn of the source of so much of her angst can be traced to her being raped as a 12-year old and having the aggressor "take her pearl and leave her washed ashore leaving an empty shell of her", which serves to give her pain a voice and maybe soothe those with the same traumatic experience.
Next up is the powerhouse and first single "Shadowboxer", where Apple puts her full vocal range on display and shows the world that even an attractive young girl can break it down and be strung along by a player who captures her fancy.
The aforementioned "Criminal" reminds everyone everywhere that when the chips were down and she needed a hit single, all she needed was 45 minutes while her band was out to lunch to fulfill the mission and give us all a classic track with surprising instrumental heft. And who can forget the 'Lolita'-ish video?
(HOLY SHIT, RANDY WRITES A LOT..)
"Slow Like Honey" is late-night jazz as Fiona offers to show you her 'secret'. "The First Taste" starts as one thing and opens up into a Sade-like jam she and her band must've had a grand time conjuring. After all is said and done, is there a much better way to conclude an album than the guitar wizardry on full display in "Carrion"?
          (FUCK IT, I'M NOT GONNA EVEN PROOF-READ THIS THING..)
For the guys at Dandy Classic this album holds up exceedingly well and is even more of a marvel 21 years (!) since its release in 1996. For Dan it's a reminder of the prowess of one of his musical heroes and what a strong example she is of a true artist. For Randy it's a chance to rediscover an album he hasn't listened to much since the mid-90's but always knew was a tour de force. Not only that we get some fun lyrical misinterpretations as well as lots of good friendly banter as we get 'Chickcember' started off right (and early).