Dandy Classic Music Top 24 favorite Rolling Stones Licks Show – Part 1
Subscribe: Apple Podcasts | Android | RSS
When it comes to the band The Rolling Stones the music speaks for itself. But with them we got so much more. Bad boy purveyors of blues-based rock who've been going strong over 50(!) years into their legendary career. They've released 27 studio albums, a dozen live albums of different persuasions, and scads of compilations to help fans become familiar with their immense library of material. And how many bands have had their exploits covered by Martin Scorsese (I'll give you a hint, it's one)?!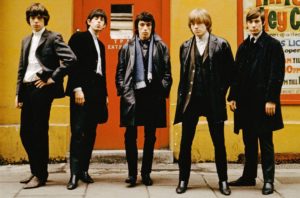 Not only that but if you like a little (or a lot in some instances) personality in your pop music stars and rock n' roll icons then these guys have more than got you covered. There's the blueprint of frontmen in Mick Jagger. Next to him is the gunslinger, too-tough-to-die foil lead guitarist Keith Richards. He's been flanked over the years by multi-instrumentalist, the late, great Brian Jones, the wunderkind Mick Taylor on rhythm guitar, and for the last 40 turns of the calendar the sturdy, good-time boy Ronnie Wood. Behind the drum kit, always, is the stoic but unmistakable Charlie Watts keeping time. And on bass there was cradle-robbing Bill Wyman through the 80's before giving way to Darryl Jones who's remained with the band since the Voodoo Lounge days. And we'd be remiss if we didn't acknowledge the musical contributions of Nicky Hopkins and Billy Preston who played organ and keys on some of the Stones most essential tunes.
Since Dandy Classic are well over a year into this endeavor of covering classic music on a weekly basis, it stands to reason that we'd mentioned the Rolling Ones repeatedly. Due to being unable to agree on just one album to cover, we decided to go the favorite song route (a la how we handled Bruce Springsteen and REM previously) and we killed it, just to have a little humility about it :). We go down many different avenues to pay homage to one of the greatest acts of all-time. We cover their bluesy swagger, their pop chops, their sense of time, their trendsetting ways (and sometimes trend-chasing ways) and even tip a cap to their psychedelic and live performing prowess. So please join us and Dan and Randy each cover their Dirty Dozen favorite Rolling Stones Licks. You know you want to!