Building The Perfect Illusion – Part 1
Subscribe: Apple Podcasts | Android | RSS
The story of this weeks podcast is one of friendship. No, we're not talking about Axl and Izzy, or any member of Guns N' Roses in relation to each other. I'm talking about between Dan Minard and Randy W. Hall.
You see, dear listener, when the Use Your Illusion albums were released on September 17, 1991 we were one of millions of teenage G N' R fans who waited with baited breath for the "Most Dangerous Band in World" to release their long awaited proper follow-up to the most successful debut album of all-time "Appetite for Destruction". It had been an achingly long gestation period from when 'Appetite' broke big (autumn of 1988) to when the double 'Illusion' albums hit store shelves. Three years felt like a decade to us at that age.
And in those years both Dan and Randy were growing up as teenage nobodies in Detroit with their divorced Dads living a mere three doors down and their Moms living within a mile of each other in the suburbs in cheap apartments and brand new schools where both were outsiders forced to make new friends. Tough times.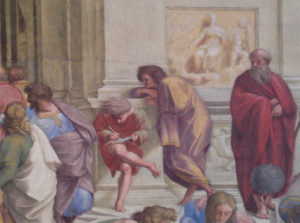 Destiny seemed to put us together in a strange way (I realize it sounds dramatic but we were teens) and for both of us our favorite band was Guns N' Roses (small wonder our very first podcast was about 'Appetite for Destruction'). And this was a landmark event for our formative years. Grunge was about to hit, but before that changed the game our heroes gave us not one double albums worth of material, but two! It was Christmas in September!
And what a group of songs we got. Before we became self-anointed music critics we thought we had hit the motherlode in terms of having 30(!) new songs to acquaint ourselves with and assimilate in our consciousness. It was unprecedented in the annals of rock as far as we knew. Not only that but Dan and I bonded over the learning of all this brand new material and it became the basis of many long conversations prior to the one you're about to listen to. I also made it a life goal to learn all the albums lyrics (even "Shotgun Blues" and "My World" people!)
But as Pete Townsend would teach us "Too Much of Anything is Too Much". And so it goes with the Illusion albums. In the intervening years I've come to question the creative decisions made by the band at that time, like many, outside of the emotional realm of subjectivity. Taking the long-standing beliefs about the album formed in the confusion and immediacy of youth and trying to look at what songs there are, it's a fun, and common, exercise among Guns fans to pare down the 30 offerings into one record.
I've come to believe that if they'd have come out with one record of the greatest material it would rival 'Appetite' creatively, and depending on your point-of-view, maybe even surpass it. Excess was the order of the day, of course, but any admirer of the band or fair-minded fan has to understand that the epic scope of a "Coma", "Estranged", "Civil War", "November Rain" et al, has to be given its due.
Even if you disagree with what picks Dan and I make as we 'Chose our Illusion', it's a fun exercise to consider if you are a fan of the band.
In Part One we discuss what it was like to experience in real-time the albums release and impact on us. Dan opens up about his time in a mental-care facility and Guns was a life raft, Randy opines on how Guns and grunge conspired, perhaps unwittingly, to put the kibosh on hair metals popularity, and Dan looks at the reputation of W. Axl Rose from a rarely looked-at perspective. If you were there for the hype and expectations surrounding these records and had a stake in the game, like we felt like we had, this episode will be awesome. If you weren't alive or didn't care at the time come listen as we articulate how a rock band can give a rag-tag young person something to look forward to and give us some happiness in a time that was in short supply. And way too many Axl impressions is a fun way to spend and hour or so, right?