Brothers In Arms – Part One
Subscribe: Apple Podcasts | Android | RSS
The Dire Straits Help Define an Era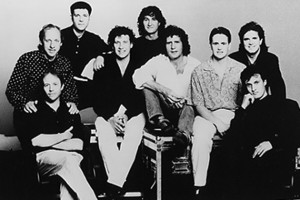 Holy crossover Batman! For this week's episode the boys over at Dandy Classic combine forces with Jeff McGee who is the proprietor of Marvin Dog Media (http://marvindogmedia.com/) and the unwitting inspiration for That Dandy Classic Music Hour.
Randy is a big fan of Jeff's vintage toy podcast, "Talking Toys w. Taylor and Jeff", and decided to approach Dan about doing a music podcast, based on Jeff imploring his audience that if they were motivated they too could make one too.
Thusly encouraged Randy hit Dan up with the idea and this podcast was born!
After months of back-and-forth we finally landed on doing Dire Straits "Brothers In Arms", which is one of Jeff's Top 10 favorite albums and one Dandy was interested in getting into. Featuring three Top 20 hits and one huge #1 ("Money For Nothing") that helped define an era, this album has to be one of the most varietal of all the albums we've ever done (probably up there with the "The Doors" self-titled debut). It has discernible elements of pop, rock, folk, jazz, easy listening electronic and world music on full display.
Mark Knopfler and Co. hit a real home run both critically and commercially with "Brothers in Arms" as this was the very first CD to ever sell a million copies and the album has sold 30 million(!) worldwide in the 30 years it's been out. For a group that had become known the world over for their professionalism and great production, this album delivered the goods for not only the bands fans but also the pop music audience in such a huge way it's arguable the band never was able to recover.
So come join us as we talk about diaper-changing, pillow talk, vintage toys, Pat Morita expectations, backyard wrestling and, of course, a track-by-track look at this benchmark album.
And if you like hearing about the toys of your youth we highly encourage you to check out the podcast that inspired Randy (https://itunes.apple.com/us/podcast/talking-toys-taylor-jeff/id536016507) to talk about music on a weekly basis with his best buddy Dan Minard (who of course graciously does the heavy-lifting on the production of the show).
So take a trip back to the 80's (with Jeff's alter-ego Admiral 80's) and explore the excellence on "Brothers In Arms" by the incomparable Dire Straits.