Black Sabbath Paranoid – Part 1
Subscribe: Apple Podcasts | Android | RSS
In the annals of British heavy metal there are two groups that get the lions share of the credit when it comes to creating a uniform prototype of the sound. Led Zeppelin, of course, and the band that we're covering today, Black Sabbath. Some folks might want to throw Deep Purple in there, but they were more traditional rock than Zep and Sabbath in my opinion (and loved to include the organ, mostly unmetal, in their typical sound).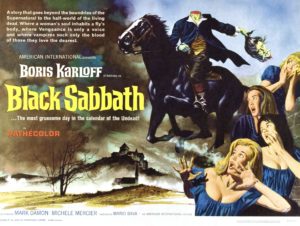 For 'Paranoid' it was the groups second album and showed off the bands expanding sonic palette and showcasing the riffing prowess of one Tony Iommi. Featuring 8 songs, some of the bands best-loved and well-known songs were hammered out on it. From the timely 'War Pigs', to the stonerish 'Planet Caravan' and even the radio-ready, inexplicably populist anthem 'Paranoid' to the now inescapable 'Iron Man', it's the album of choice of many a rock and metal enthusiast. But one of the things that makes it stand out from its contemporaries is a track like 'Hand of Doom' which weaves the story of a Vietnam vet hooked on heroin to deal with the psychic burden of warfare with peerless musicianship to create art out of the loud bombast.
Featuring Randy W. Hall's new musical crush Bill Ward on the drums (and bongos on 'Planet Caravan'), Geezer Butler, the collectives main lyricist, on bass, the band had one of the best rhythm sections ever. Between they and their contemporaries Led Zep you couldn't go wrong. Add Ozzy Osbourne and his iconic vocal stylings with Iommi's thunderous guitar work and one of the biggest bands with lasting impact and influence were born. For teens struggling with growing up they became a rite of passage for millions.
Even though neither Dan or Randy never had a Black Sabbath phase we got a request to do this album from a listener (thank you Justin Farmer) and were both enriched for it. And since neither of us were Sabbath fans going in Dan interviewed his buddy Pete who was a Sabbath fanatic who's seen them multiple times and even met Ozzy recently in Part 2 of the program. So come join us for a 'Paranoid' edition of Dandy Classic Music Hour. You'll be having a good time baby, that just might last.