Smitty's Stockpile #3 – The Baddest
Welcome to "Smitty's Stockpile" where Dandy's webmaster Smitty opens up a vault of precious gems from the annals of YouTube music insanity.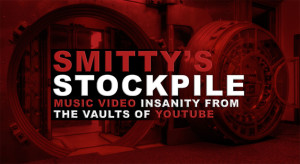 You need to know something about southern rapper Froggy Fresh*. He can beat you up even if you add one thousand knives. I know because he said so. And Froggy Fresh ain't playin' son.
For me, the real magic begins at the 2:00 mark. Mr. Froggy Fresh spits hot chains of fire that rip right through the haters as his imposing sidekick, Money Maker Mike, looks on and nods appropriately.
And why wouldn't he nod his head to these fresh beats? After all, Beyonce thinks Froggy's cute. And don't worry, Beyonce. The mogul behind Froggy Fresh LLC thinks you're cute too.
Somebody get this kid a tissue. Ladies and Gentleman, I give you:
"The Baddest" by Froggy Fresh
*The artist formerly known as Krispy Kreme