Marvin Gaye, WHAT'S GOING ON – Part 1
Subscribe: Apple Podcasts | Android | RSS
On the shortlist of great soul albums, Marvin Gaye's 1971 classic "What's Going On" is always mentioned first or second seemingly. And for good reason at that.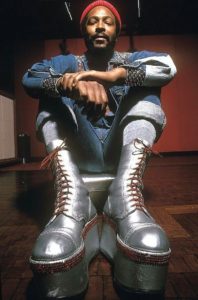 Considering that, it's amazing to contemplate it almost never got made in the first place. It all started when Obie Robertson from the 4 Tops along with Al Cleveland, wrote the title track and presented it to Gaye for his consideration. After hearing the rough idea for the song, Marvin added his own special flavor to the track before agreeing to record it.
Informed by the correspondence he had with his brother Frankie who was fighting in Vietnam, he got together several members of the Funk Brothers (chiefly legendary bassist James Jamerson who told his own wife he had just cut a classic upon returning home from the session for it), and put together the single. Initially Motown founder Barry Gordy hated the song and thought it had the potential to torpedo his career. While ordinarily a visionary, Gordy was dead wrong in this instance.
Well Gordy may have been wrong about the song, but he was never one to be stubborn if it meant turning a profit. So tail between his legs, he personally sought out Marvin and told him he had 30 days to make the full-length record he wanted to make.
Not only did he make Motown's first socially conscious record, he made an outright masterpiece. Besides the well-known title track, it spawned two other Billboard Top 10 hits, "Mercy Mercy Me (The Ecology)", a beautiful tune about the perils of not taking care of the earth, and "Inner City Blues (Makes Me Want to Holler), which was about the blight and turmoil going on in the ghettos of America, such as Detroit where the record was born and made.
Believing that God was imbuing the creation of the record and that he was his vehicle, Gaye poured himself into the making of the record and completed the nine-song LP in 30 days exactly. And the world of music has never been the same since.
For the guys at Dandy Classic, this show is a long-time coming as this is one of Randy W. Hall's favorite records. For Dan Minard it's a great opportunity to rediscover what made Marvin not just a great singer, but the pathos that made him an all-time great artist. Not only that, but we discuss who would be on our Mt. Rushmore of soul singers and even the psychology of Marvin's checkered upbringing. It'll be 'Right On' as we discuss 'What's Happening Brother'. Or something like that.