Top 5 Songs to OPEN A Film – by Jeff McGee
So, my first blog was all about the best uses of pre-existing songs in film. This month is the sequel, sort of an Electric Boogaloo of my first blog. But don't worry, I'm not a one-hit wonder, we will expand off of this subject area soon enough. This time out, I'd like to share my choices for top 5 songs used to OPEN a film. I disqualified these songs from last month's list for a couple of reasons. First, it made it easier to whittle THAT list down, and second, choosing a song to open a film is a bit of a different animal than finding the perfect song to complement a scene within a film. You have to set the mood of the flick, while at the same time making sure the song underscores the scene properly.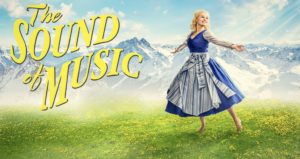 I'll be interested to hear your thoughts on this topic, I imagine we all have a few favorites that other people don't think of. Like last time, I've limited the list to songs that existed before the film, not songs that were written specifically for the film. So, here we go:
5. "A Town Called Malice" by the Jam, as heard in The Matador – First off, if you've never seen this film, you should check it out. It's quirky, funny, and touching in its own way. Pierce Brosnan plays an assassin who's in the midst of a crisis of conscience, and Greg Kinnear is an advertising executive who gets roped into the assassin's world. The entire soundtrack is expertly-programmed, but the opening is PERFECT. This bouncy, jaunty song plays over the opening credits and sets us up perfectly for the breezy yet serious story that is to come.
Listen here: https://www.youtube.com/watch?v=YfpRm-p7qlY
4. "Mambo #8" by Perez Prado, as heard in Office Space – Instrumentals are less tricky than songs with lyrics, since you only have one component to consider, but leave it to Mike Judge to make a deep cut for Americans who aren't that hip to world music. Perez Prado is a legendary recording artist, and this is one of his best releases. Not only is it a fun listen, it perfectly sets up the stop-and-go traffic we see our cast dealing with, and it stays in your head long after the movie opens. And, like The Matador, if you have never seen Office Space, first, welcome to civilized society, and second, GO WATCH IT NOW!
Listen here: https://www.youtube.com/watch?v=OCMQHsHKt54
3. "Gimme Shelter" by the Rolling Stones as heard in The Departed – Oh, Marty. You used this song in Goodfellas and Casino. You can only go back to the well so many times. However, it IS a great song, and it DOES work well to open your last mob epic, The Departed. The song opens over a tracking shot, and is intercut with news footage that underscores the message of the song. The quality of the song and the quality of the images are strong enough to overcome the "been there, done that" feeling of the song's use. It's a shame that Scorsese won his Oscar for a film that is a little sloppy, but hey, at least he was recognized, and his penchant for song selection has not faded with age. Keep at it, Marty, don't ever stop!
Listen here: https://www.youtube.com/watch?v=F-D_PgmzToI
2. "Money for Nothing" by Dire Straits as heard in Kingsman: The Secret Service – A very new choice, but one that I will stand by. An inspired song choice, unexpected but wholly appropriate. Helicopters fly in, and as soon as Mark Knopfler's guitar hits, a building starts exploding. AWESOME. If you've heard my appearance on Dan and Randy's show, you know I have a strong affinity for this song, and the fact that the film makes such perfect use of it only makes me happier. If you haven't seen Kingsman, guess what,                                                      you SHOULD. It's fun, but not for the faint of heart, and the choice of Dire Straits to open the film tells us it's not going to be conventional in the least, and it's unconventional in the best way possible.
Listen here: https://www.youtube.com/watch?v=iwDDswGsJ60
1."Misirlou" by Dick Dale and the Del Tones as heard in Pulp Fiction – Did you really think there would be another choice at the top of this list? This may be the most perfect melding of music and film in the history of both music and film. The relentless attack of Dick Dale's surf guitar and the driving beat of the song blasted us back into our seats back in 1994, and it never ceases to surprise me just HOW fast these guys are able to play. This heralded the arrival of a true cinematic voice who combined George Lucas and Steven Spielberg's gift for pastiche and homage with Martin Scorsese's ear for music, and my life was never the same. The horns are perfect, too! This song also resulted in a renewed interest in "surf rock" and Dick Dale's entire catalogue.  Never has a piece of music so accurately captured the anarchic spirit of a film. Pummeling, and perfect.
Listen here: https://www.youtube.com/watch?v=1hLIXrlpRe8
So, that's my list. Yeah, it skews new, but it's my list, so suck it! But seriously, let me know your thoughts on this subject, I know there are bound to be several options that I overlooked, and I depend on you to guide me to the light!
Jeff McGee is the founder of the MarvinDog Media podcast network, where he hosts Talking Toys with Taylor and Jeff, The Pilot Episode, and Bantha Banter: A Star Wars Chat Show. These shows can be found at www.MarvinDogMedia.com and on iTunes. In addition to his own shows, he also appears weekly on Assembly of Geeks (www.AssemblyOfGeeks.com) and on Comics With Kenobi discussing all the latest Star Wars Comics on the Coffee With Kenobi podcast network (www.CoffeeWithKenobi.com). He also write a monthly blog for Coffee With Kenobi, if you just can't seem to get enough of his ramblings.