The Replacements – Pleased To Meet Me – Part 1
Subscribe: Apple Podcasts | Android | RSS
1987 was a banner year for music fans. Just about every demographic got served that year. Pop metal fans got Def Leppard's 'Hysteria'. Pop music fans got new albums from Michael Jackson ('Bad'), George Michael ('Faith'), Whitney Houston ('Whitney') and arguably Prince's magnum opus ('Sign O' the Times'). Fans of rock got U2's biggest album ('The Joshua Tree'), the biggest debut album of all time in Guns N' Roses ('The Joshua Tree') and hair metal as a genre was in its heyday. Even fans of soundtracks got 'The Dirty Dancing' soundtrack, one of the all-time best sellers.
On the other end of the musical spectrum was The Replacements. When "Pleased To Meet Me" dropped the 'Mats had become well-established as college rock Gods of the underground . Following their major-label debut "Tim" from 1985, the band were primed to make an impression on the mainstream if the collective from Minnesota could get out of their own way. Unfortunately, and we discuss theories why, the group couldn't translate this great cycle of songs into much more than critical success.
So the studio three-piece convened in Memphis to record with producer Jim "East Memphis Slim" Dickinson at Ardent Studios in Memphis, Tn. This was significant for the group since their patron saints Big Star recorded all of their studio albums at the famed studio and Dickinson had produced the difficult masterpiece "Third" for Big Star. So Paul Westerberg (vocals and guitar) got to work with his heroes in Dickinson and even Alex Chilton himself guessed on "Can't Hardly Wait". Rounding out the lineup was Tommy Stinson on bass and Chris Mars on drums.
The album opens with the blistering, Stones-y opener "I.O.U.", before giving way to the  shoulda been a big hit "Alex Chilton". It gets dicey during "I Don't Know" and "Nightclub Jitters" before finding their footing for the dramatic "The Ledge".
On the second side they had some really good album cuts in "Nevermind" and "Valentine" but the real showstoppers were the album ending "Skyway" (two minutes of acoustic perfection) and the undeniable "Can't Hardly Wait". If there's a better one-two punch to end an album we'd love to hear it.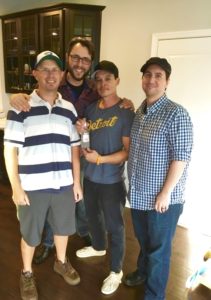 While talking about a great album (see what I did there?😃) is always the goal at Dandy Classic, what makes this episode special is that we got together at Randy's house in Franklin, Tn to do a crossover episode with our buddies over at The Great Albums, 'Wild' Bill Lambusta and Brian Erick(son) hailing from the great state of New Jersey. If you're a regular listener of the show then you know we've been looking forward to this for months. And it lives up to the billing!
For starters these guys have a love and deep knowledge of the subject that is extraordinary. Both of them consider the Replacements one of their favorite bands and they school Dan and I on a multitude of different things.
For fans of 'The Great Albums' who have come here to listen to our version we feature a good half-hour free ranging discussion prior to the track-by-track analysis that you haven't heard yet. In Part 2, you'll get to hear all four of our Top 5 favorite songs and wrap-up that you can only get here.
So with that sit back, relax and enjoy the meeting of the minds as we disseminate the great "Pleased To Me" with The Great Albums podcast. We can't hardly wait!