Slowdive – Souvlaki – Part 1
Subscribe: Apple Podcasts | Android | RSS
Odds are that even if you are a big music fan there's a better-than-good chance that Slowdive's sophomore album, 1993's "Souvlaki", has escaped your notice. If you are familiar with its ethereal pleasures then consider yourself one of the lucky, and likely, super smart ones😉. With the release of a new album this past May it has made it more possible for a new generation of fans to give this show-stopping record a chance.
When the album came out in Europe in May 1993 it was met with mostly indifference and had trouble finding an audience. When it was finally released in the US some nine months later, it was more-or-less dead-on-arrival save for the dedicated few who probably saw them live or spent an inordinate amount of time reading U.K. music magazines.
Dan Minard was one of the few who saw them on their ill-fated American tour to promote the record. Plagued by lack of promotion and their US label pulling their funding, the group did manage to find their way to Detroit on May 18, 1994 and attract a lifelong fan in Dan who was brought there by his tastemaking friend Mike Shank. That night Dan was hypnotized by what he saw. Transfixed by their wall-of-sound guitar sound and the graceful beauty of female singer Rachel Goswell it was the phenomenal 'Machine Gun' that got his attention and wouldn't let go some 23 years later.
The album itself, unfortunately, never had much of a chance to succeed commercially as Slowdive was identified heavily with the shoegaze scene and it was in the final death spiral as a genre in Europe as Britpop and grunge took over youth culture. In America it was even bleaker as shoegaze never broke through to the mainstream and the label hardly bothered to promote the album on either side of the pond.
In the intervening years though the album which had been either ignored or slagged upon release, underwent a critical re-evaluation. And their sound was influential to a litany of artists who were more widely known. Acts from Radiohead to Sigur Ros to Beach House have Slowdive to thank for at least some of their sound and musical palette.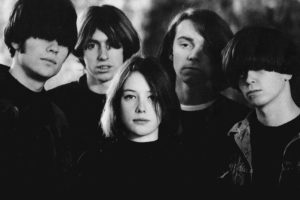 Fronted by guitarist/singer Neil Halstead, whom Dan has an interesting personal story about in Part 2, the album is a stunning masterpiece in our estimation that any discerning music fan needs to experience, preferably with headphones.
Opening with the guitar blast of the single 'Alison' the group welcomes you to their brilliance immediately. The momentum continues with the aforementioned 'Machine Gun' and the powerhouse '40 Days' which is a whirlwind of a way to kick off an album. There's also the collaboration with Brian Eno called 'Sing' which must've been quite a feather-the-cap for the band. Then you have the otherworldly 'Souvlaki Space Station' which is six minutes of awesome, coupled with the spine-tingling bass workout of 'When the Sun Hits' and the album proper wraps up with the plaintive, straightforward heartbreak of the mostly acoustic 'Dagger'.
But we here at Dandy Classic love the fans and wanted to give you a little extra like SBK gave the North American CD with four bonus tracks culled from their "5EP". Highlighted by the super cover of the Lee Hazelwood tune 'Some Velvet Morning' we go all-out on the track-by-track to give you what Dandy Classic fans expect from Dan and Randy. So crank it up and listen as we give one of the lost classics of the 1990's the 'Dandy Treatment' it so richly deserves.