Beastie Boys Licensed to Ill – Part 1
Subscribe: Apple Podcasts | Android | RSS
One of the more interesting careers in popular music of the last 30 years has to belong to the Beastie Boys.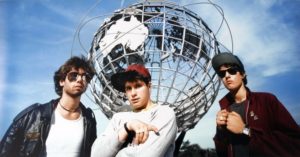 Starting with their mega-popular debut album, the one Dan Minard and I discuss this week and next, 'Licensed To Ill', the Causian hip-hop trio known as the Beastie Boys hailing from New York City, over the course of seven good-to-great records left a legacy as varied and respected critically combined with commercial appeal as well.
Until Adam 'MCA' Yauch's untimely death in 2012 at 47, the group continued to explore and expand their sound within the parameters of rap, punk, rock and other sounds and challenge their audience with their unmistakable soundscapes even as the popular music landscape at large shifted and transformed. All while maintaining their artistic integrity. No mean feat mind you!
Also in the group were Adam 'Adrock' Horowitz and Michael 'Mike D' Diamond. The three of them excelled at highlighting and complimenting each members unique skill set, employing perfect rhyming schemes and teamwork to create classic tracks for miles. Just put on "Brass Monkey", for instance, from this record as the ideal illustration for how the three of them could turn their rapid-fire delivery and three different voices into the hip-hop equivalent of a Beach Boy three-part harmony.
While some will argue that the follow-up of 'Paul's Boutique' was the Beasties masterpiece, or that they rose to another level on 'Check Your Head' or 'Hello Nasty', what this record has going for it is song-after-song of delightful brilliance. Put this on at any party for young folks of any walk of life in the last 30 years and it cuts through. The beats, the rhymes, the production, the vibe it invokes, is hard to duplicate, let alone replicate, even for MCA, Adrock, and Mike D themselves (though they seemed to outgrow its bratty rebelliousness before the tour to support the LP had ended).
You have the breakout single, "Fight For Your Right" which Kid Rock has been trying to aspire to his entire, checkered career but couldn't approach. You have the Led Zep driven swaggerfest known as "Rhymin' and Stealin". The second side opens with Rick Rubin's opus "No Sleep Till Brooklyn" with an assist from Slayer's guitarist Kerry King which is as good as the marriage of rap-and-rock has ever gotten. You also get peerless story-telling combined with historical references in the hilarious "Paul Revere" as well. Over the course of 13 tracks the album keeps things not only interesting, but the listener engaged and into the entire record, which outside of Public Enemy, was a rare thing at the time for the genre.
Along with labelmates Run DMC, the Boys brought rap into the mainstream and broke the color barrier to boot (Eminem in particular owes them a huge debt). This album, one of Dan's all-time favorites, isn't only essential, important and a whole host of other superlatives, it's also hella fun to listen to.
So join us for our track-by-track as we bring it back like only DandyClassic knows how. It's time to get ill!