R.E.M. Top 5 Favorite Songs – Part 1
Subscribe: Apple Podcasts | Android | RSS
Before alternative rock was a thing, there was R.E.M., who pretty much made it a thing.
Emerging from the post-punk ethos in the Southern college town of Athens, GA the band combined the jangly guitar stylings of Peter Buck who has influenced multiple generations of low-key axemen, with the murky and hyper literate approach of lead singer Michael Stipe to forge a unique and appealing "alternative" to the corporate rock flooding the airwaves.
And we'd be remiss if we didn't give due credit to the rhythm section of Bill Berry on drums and Mike Mills on bass (who also contributed his trademark backing vocals to rave reviews) the band were serious about their music without being ostentatious about their image.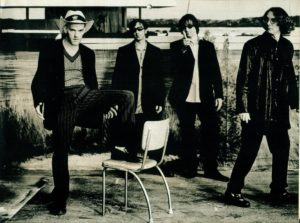 From the release of the debut album 'Murmur' in 1983 the band put the music universe on notice that they were a group to keep tabs on. Through their first five LP's (along with an EP and B-sides collection) on indie-label IRS they slowly grew their audience and diversified their sound culminating in their first gold record 'Document' in 1987, which featured their first Top 10 single "The One I Love".
They switched to major label Warner Bros. for the balance of their career (another 10 studio albums and a couple of retrospective best of's) and enjoyed unprecedented commercial success in the first half of the 1990's as they followed their creative muse in several different directions through the intervening years in an attempt (more successfully than not) to grow and stay relevant.
Following a near-death brain aneurysm while on tour Bill Berry retired to farming (seriously) in 1998. The band still soldiered on for another five albums and 13 years and calling it quits in 2011 with the release of their 15th studio effort 'Collapse Into Now', leaving on what most (including myself) consider to be a high-note.
From straight-forward rock, to electronic experimentation, to pop songs, ballads and even hip-hop cameos the band really did never stand pat challenging themselves and their audience throughout a 30-year hall-of-fame career.
So to tackle such an important and essential band the guys at Dandy Classic called in some reinforcements in the form of The Great Albums podcast. They feature a duo of buddies who discuss great music on their well-regarded show (http://www.thegreatalbums.com/) 'Wild' Bill Lambusta and Brian Erickson. And the reason we brought them on to talk REM was they have often called them "the unofficial band of The Great Albums podcast". And since they have so many great albums it was hard to choose just one to discuss Randy decided we'd each pick a Top 5 favorite songs to touch on as many of their great LP's as possible in a succinct amount of time. We hope you appreciate and enjoy our respective picks and reasons why. We sure did :)!